I definitely love shoes. It happens to be my weakness. And since it has been quite a while since I last gave in to this "
impulse
" of mine, I've decided to get me not one but two (that's right) new pairs of slip on - one for work (tan) and the other (off pink) for casual walk.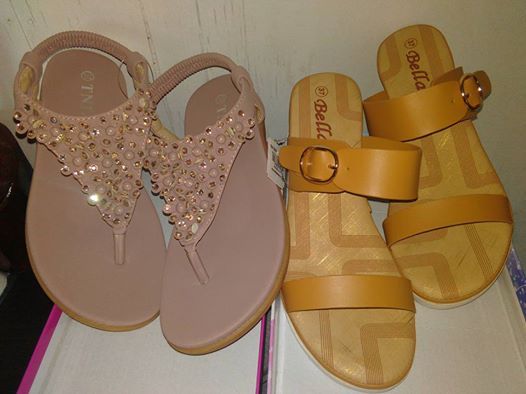 I walk for comfort. It has been my primary consideration if I have to spend for a footwear. My work requires standing for extended period most of the time. Although pointed heels would have look more elegant and appropriate, it won't help me through the day.
Under my office table, I have at least four pairs of footwear that I use alternately in a day. It is so my feet won't get weary of wearing the same shoes all day through. With this new addition, I had to send a pair back to my shoe shelf at home.
I have no any issue with this so far - the color, the style - just perfect for me. Its comfort is even extended to the pocket. The only time I won't slip it on I guess is when I fail to get my toenails done. :D
This casual thong flats on the other hand is an attention seeker.
I don't usually buy two the same article at a time but this has got me thinking. December is taking place. I could use it for this year's Christmas party at work. No, we're not really used to wearing party dresses ever since so there's no need for party shoes either. One thing I like about that idea is the fact that I can just buy something I can comfortably wear at any time.
The box's still in the shelf. It'll sit there and wait till the party. :D