Around late September, a certain Brenda from a latex fashion clothing retail and wholesale website contacted me via email and offered a $20 coupon a month in exchange of a single link to be placed anywhere around my blog. Yes, you've read it right. It doesn't matter to them where as long as it is there. I told myself, if I accept as low as $5/month for a sidebar link, why not $20? Not in cash though but still I don't think it's that bad so I gladly took the offer. As soon as I had their link in place, the first coupon was issued right away.
You must have come across of ROMWE.com, the latest street fashion online store. It is where the coupon came from. I'm told to use it to buy whatever I want from the site so I did. It has been a while since I last shopped online and not having any plans to so I just tried to maximize what I've had. So $20, it is!
What could have a twenty dollar worth coupon got me from ROMWE?
First I browsed on clothes unfortunately none from the selections met my price range. Well there are some but they're not really my kind. So on to the next category I had in mind - accessories!
This belt costs only $14.99 so I still have roughly $5 left.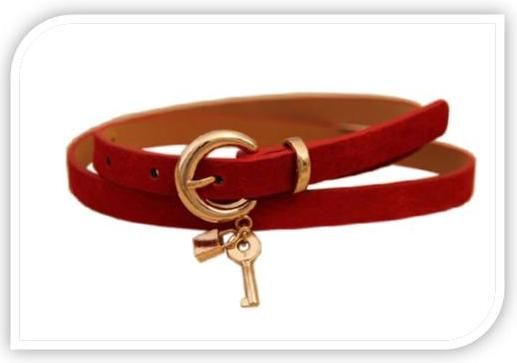 Red Waist Belt ($14.99)
featuring a red color with a slim cut design,golden buckle pin with a lock and a key pendants dropped,a gold-tone single keeper design and round pin buckle fastening
I browsed on jewelry (rings in particular, my most preferred article when it comes to jewelry) and got fascinated with this four flower silver ring at $10.99. Photo shows the copper version but I had mine silver.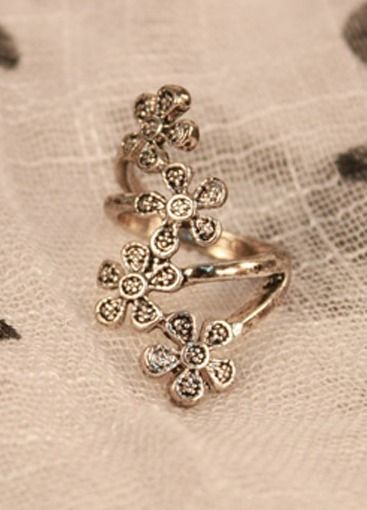 Four Flower Silver Ring ($10.99)
featuring a fresh style design,silver/copper color with four small flowers shape on the top,four blooming flowers a line,smooth slim band to the end
Now I'm $5.98 short. I didn't mind. I can't seem to look for something else so on to checking both items out. I used the coupon given to me and finally paid only $5.98 via PayPal. An email confirmation then came through shortly after the payment was made.
And if I may still continue (I hope I'm not boring you yet) because exactly in November 1st, I received another coupon for the month. Big grin! :D How prompt, huh?
This time I knew already what I want to spend the $20 coupon for. More vintage rings!!!
Oversized Diamond Silver Edge Ring ($11.99)
featuring an oversized diamond design with silver edge,a bright and faceted diamond surround encrusted with silver gear-shape,a large chunky shank with small diamond embellishment finish
Retro Style Ring Suit ($12.99)
featuring a retro collection of designs including a red crystal,a white crystal flower,a copper bowknot,a swallow and a wing,five slim rings with copper color and crystals embellishment
Now doing the math for this second round of shopping I had to spend another $4.98 more for both items at the checkout. But so what? I can barely treat myself anymore. I could make use of these items as a gift to myself. Why not? Besides the coupons cannot be accumulated so that rule didn't leave me with much choice but to shop at ROMWE every month and for as long as I keep their link on my site. No, I'm not worried. I'm excited! :D
Anyway, last Monday, I received another email from the store confirming that my orders are on its way and that I should get a hold of them soon. Tracking information was also provided, should I decide to keep track of my orders. For now I can only hope all items are what they are as shown and described on the site.
Inexpensive fashion articles hunter – if that's you then this site can be your best bet. Notice that ROMWE can deliver your orders anywhere you are in the world for FREE! So don't be left behind. Check their site out here.